We love Reading
At Normanton Common Primary Academy, we love reading. Fiction, non-fiction, poetry, newspapers...
Here are some great websites, tips and learning materials to help with reading at home.
TOP TEN TIPS for reading at home with your child
Here are some top tips to help make reading at home exciting and a meaningful activity.
40 book based activities for digital and paper based books, magazines and newspapers.
FIRST NEWS CHILDREN'S NEWSPAPERS (click on the edition you would like to read)
Click here to read or listen to Sooper Book's award-winning collection of free bedtime stories for 3-10 year olds, online story books, short stories, fairy tales, rhymes and poems.
Click here to read over 330 Big Cat ebooks from the Collins Primary Reading Programme.
Click on the teacher portal to enter

Username:

parents@harpercollins.co.uk
Password:

Parents20!
and click Login.
AUTHORS BEING KIND
Enjoy listening to some of the most popular children's authors in the country - these are just a few examples of authors being kind and sharing their stories with the world. You can also take part in interactive or creative activities that these authors have developed.
'Elevenses' with DAVID WALLIAMS JULIA DONALDSON Everyday at 11am, David will be reading one of his, World's Worst Head over to The Gruffalo FB page, to see Julia and Axel
children stories. Click on the activities tab and choose from a treasure Scheffler, read some of her famous stories.
trove of great activities all inspired by his tremendous tales. View her new, instructional images here.
'How to Train Your Dragon' with CRESSIDA COWELL HARRY POTTER at HOME
The current Waterstones Children's Laureate 2019-2021, Cressida Cowell, Bringing the magic closer to you, J.K.Rowling has opened up the
is reading her hit story, 'How To Train Your Dragon', on her YouTube channel. world of Harry Potter and is allowing us to take an even closer
Join in with #createwithcress on Twitter - create your own dragon species into life at Hogwarts. Enjoy lots of activities, and listen to
and you could win a signed drawing of Toothless & Stormfly. Details here. 'Harry Potter and the Philosopher's Stone' free on Audible.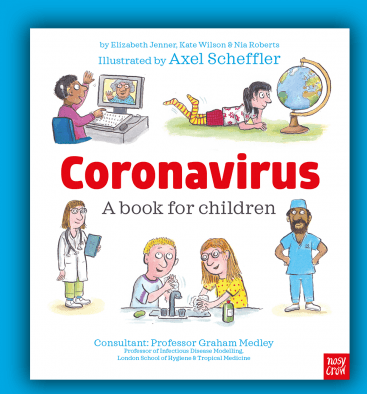 Click the image to view the book.
This is a fantastic new book, illustrated by Axel Scheffler, all about the Coronavirus.
The book answers key questions in simple language, appropriate to children aged 5 to 9.
Here is a full explanation of the book, including authors, publishers and the intent.
Register and click on Oxford Owl for Home to read 100s of ebooks for ages 3- 11.
Access to ideas, quizzes and facts about your favourite topics.
No sign up necessary - an extensive bank of poems for children, including poet performances and interviews.
Free activity packs to download for Key Stage 1 and 2 - based around short films and animations.
Note to Parent: Please ensure that you watch the short film or animation first, as some are only suitable for Year 6. Free reading comprehension packs to download – a selection of reading comprehension texts with questions. The packs are grouped into different ages.
Takes you to the 'Today at Home' page where you'll find lots of fun book based ideas from authors and illustrators to try at home.
We love this resource. Watch videos of illustrators and authors reading aloud their books. Learn about where their ideas comes from and how they work these up into children's books. A MUST for our budding illustrators and authors.